WARNING: This footage is graphic.
Two planes collided in midair at the Wings Ove Dallas Airshow at the Dallas Executive Airport on Saturday afternoon.
The accident took place during the Wings Over Dallas World War II Airshow at 1:25 p.m.
"A Boeing B-17 Flying Fortress and a Bell P-63 Kingcobra collided and crashed at the Wings Over Dallas Airshow at Dallas Executive Airport in Texas around 1:20 p.m. local time Saturday," the Federal Aviation Administration said. "At this time, it is unknown how many people were on both aircraft."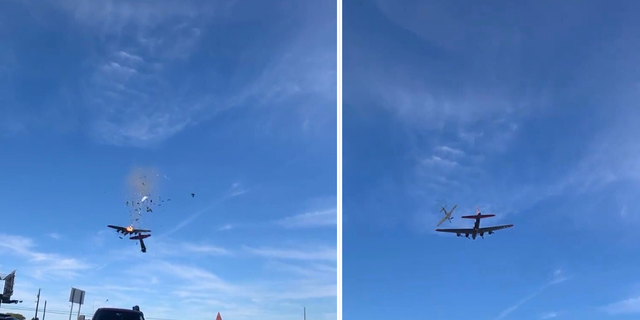 According to one eyewitness posting on Twitter, "A WWII bomber just crashed at Dallas Executive Airport.
"It was part of the Commemorative Air Force's Wings Over Dallas Show. Wing just came off as it made a pass over the airfield." Another added, "Tragic and horrible to witness."
Dallas Fire-Rescue says it does not have any information about the status of the pilots or any injuries on the ground at this time.
The FAA and the National Transportation Safety Board said that they will investigate the incident.
There has been an incident at Dallas Executive Airport during the CAF Airshow and Dallas Fire and Rescue is responding. More information will follow.

— Dallas Executive (@dallasexecutive) November 12, 2022
Prior to the crash, the airshow was marketed as a chance to "re-live history," with a selection of World War Two planes on show and in action.
The show was scheduled for Nov. 11-13, Veterans Day weekend, and the schedule included guests being able to view more than 40 World War II-era planes.
The videos are heartbreaking. Please, say a prayer for the souls who took to the sky to entertain and educate our families today.

— Mayor Eric Johnson (@Johnson4Dallas) November 12, 2022
In a tweet, Dallas Mayor Eric Johnson described the accident as a "terrible tragedy in our city" and noted that there were still many unanswered questions regarding it.
"The videos are heartbreaking," Johnson wrote. "Please, say a prayer for the souls who took to the sky to entertain and educate our families today.
In a press conference on Saturday evening, Hall Coates, the president of the Commemorative Air Force, told reporters that the families of crew members involved in the disaster, as well as eyewitness, would be offered support and counseling.
Coates declined to share the exact number of fatalities involved in the incident. However, he said that the B-17 typically carries four to five members while the P-63 was a single passenger aircraft.
"Please … if you have it in your mind, express prayers and thoughts for the crews that were involved today, for the people that saw it, for the family members," Coates said. "Obviously, this is a very challenging time for those families."