A video captured the moment a house collapsed and got swept away in a flooded river in Juneau, Alaska.
Footage taken over the weekend shows a two-story property teetering on the edge of the eroding banks of the Mendenhall River before it falls into the raging waters.
"Oh, there it goes, there it goes," a man says.
"No f—ing way," a woman is heard saying as the roof of the home breaks apart, sending water and debris into the air.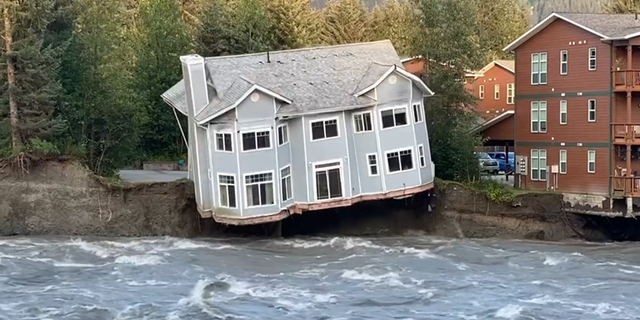 Alaskan officials said Saturday that the Mendenhall River began flooding after a "major release" from Suicide Basin, a side basin of the Mendenhall Glacier.
The National Weather Service says since 2011, Suicide Basin has "released glacier lake outburst floods that cause inundation along Mendenhall Lake and Mendenhall River."
The Juneau Police Department said the City and Borough of Juneau (CBJ) issued a local emergency declaration following the flooding.
"Water levels have now returned to normal and response efforts are underway. CBJ has stood up an emergency operations center and is coordinating with state and federal officials," police said Monday.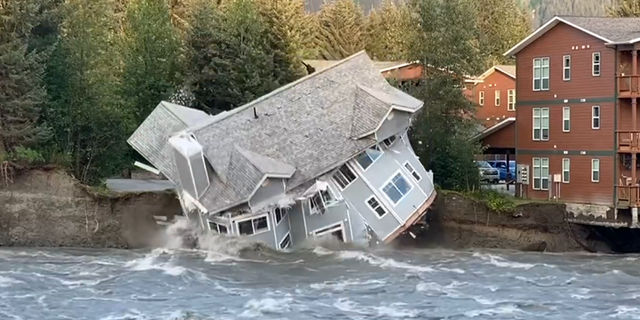 "CBJ has completed an initial assessment of structures damaged by flooding and bank erosion and posted signage to buildings that were determined not safe to occupy," police added. "A total of eight structures were condemned, including two single-family dwellings (one containing an apartment) which are likely a complete loss and several others that were significantly impacted and may be lost."
Authorities are urging the public to stay away from the banks of the Mendenhall River as they "remain highly unstable."
"The US Army Corps of Engineers has informed CBJ that homeowners that have incurred property damage due to this event may proceed with work to stop further erosion without prior notification to USACE," the Juneau Police Department also said.
The National Weather Service said water levels at Mendenhall Lake reached a max height of 14.97 feet around 11:15 p.m. Saturday, breaking the previous record stage of 11.99 feet set in July 2016.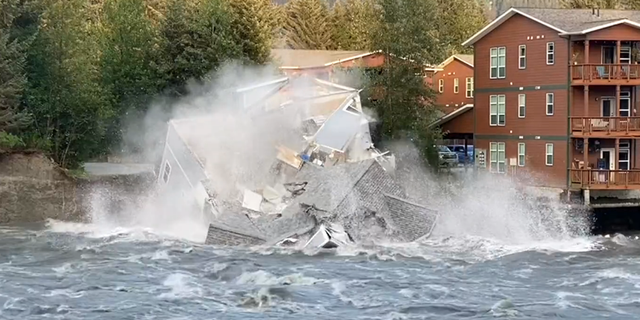 "Significant flooding was reported with water in areas that previously have not seen flooding," it added.