A jet linked to Wagner Group chief Yevgeny Prigozhin landed in Belarus from Russia on Tuesday, days after he called off his armed rebellion against the Russian military. 
Flight tracking website Flightradar24 showed an Embraer Legacy 600 jet, bearing identification codes that match a plane linked to Prigozhin in U.S. sanctions documents, descending to landing altitude near the Belarus capital Minsk, Reuters reported. It first appeared on the tracking site above Rostov, the southern Russian city Prigozhin's fighters captured on Saturday.
Belarusian President Alexander Lukashenko confirmed the jet carried Prigozhin to exile after the Kremlin said it made a deal where Prigozhin would move to Belarus and his fighters would not be prosecuted. Lukashenko said Tuesday that Prigozhin has moved to Belarus and that Wagner Group troops would be welcome to stay in the country "for some time" at their own expense, according to the Associated Press.
Russian authorities announced Tuesday a criminal investigation into the Wagner Group's purported mutiny has been closed, with no charges filed against anyone involved.
The Federal Security Service said its investigation revealed that the participants in the mutiny had "ceased actions directly aimed at committing the crime," Reuters reported, citing Russia's RIA state news agency.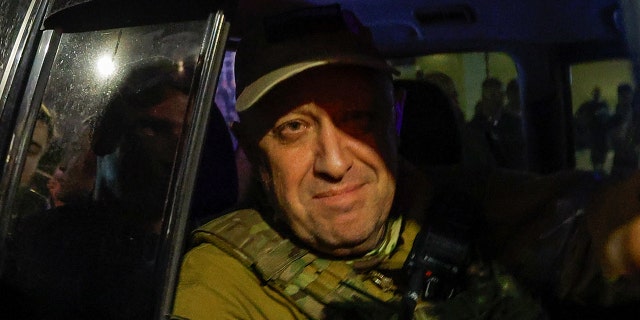 Despite Russian President Vladimir Putin calling them traitors, the Kremlin stated over the weekend that it would not prosecute Prigozhin and his troops after he pulled his men back on Saturday to avoid bloodshed, less than 24 hours after the revolt began. Prigozhin said he would go to Belarus at the invitation of Lukashenko. However, details of his proposed journey into exile were not made public, and his whereabouts remained unconfirmed for three days.
His last public appearance was Saturday night, when he was seen smiling and high-fiving bystanders while an SUV carried him out of Rostov after Wagner Group forces made their about-face.
Putin delivered a speech Monday night, when he condemned the mutiny leaders but did not mention Prigozhin by name. Putin said Wagner fighters would be allowed to leave for Belarus, join the Russian military or go home.
Prigozhin avoiding prosecution contrasts with how the Kremlin has been responding to people staging anti-government protests. Many opposition figures in Russia received lengthy prison sentences and are serving time in penal colonies known for harsh conditions.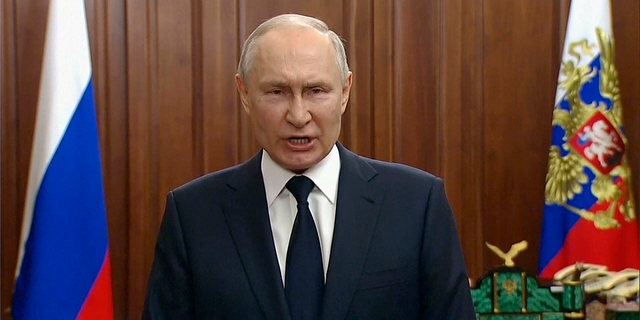 Until Prigozhin's mutiny, the 62-year-old ex-convict and mercenary leader was a long-time Putin ally whose Wagner fighters participated in the bloodiest battles of Russia's invasion of Ukraine. Prigozhin claimed he launched the rebellion to oust Russian military leaders who he had accused of corruption and incompetence in prosecuting the war.
Wagner mercenaries ostensibly seized control of Russian military facilities in the city of Rostov-on-Don Saturday morning and had nearly advanced to Moscow later that day when Prigozhin called off his march. The only reported incident of violence was a confrontation between Wagner forces and a Russian helicopter that ended with the aircraft being shot down, he said.
"We went as a demonstration of protest, not to overthrow the government of the country," Prigozhin said in an audio message posted to social media Monday.
Putin confirmed on Monday that Russian pilots had been killed fighting Wagner mercenaries and thanked Russians for remaining united during the crisis.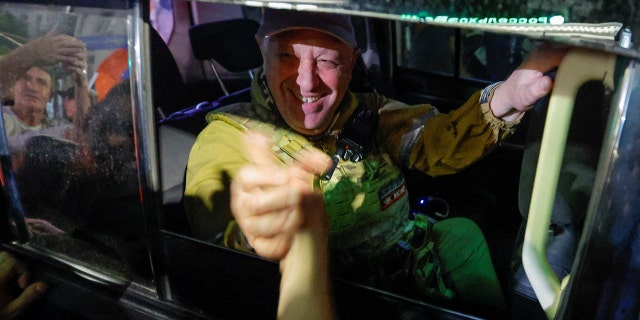 He said Russia's enemies wanted to see the country "choke in bloody civil strife," but Russia would not succumb to "any blackmail, any attempt to create internal turmoil," according to Reuters.
The short-lived rebellion was seen as the biggest challenge to Putin's rule in his more than 20 years in power.
On Monday night, the Kremlin showed Putin meeting with top security, law enforcement and military officials, including Defense Minister Sergei Shoigu, whose removal was demanded by Prigozhin. Earlier on Monday, the Defense Ministry released a video of Shoigu inspecting troops in Ukraine.
Prigozhin said Monday that the Belarusian leadership proposed solutions that would allow the Wagner Group to operate "in a legal jurisdiction." He provided no further details on the extent of those operations.